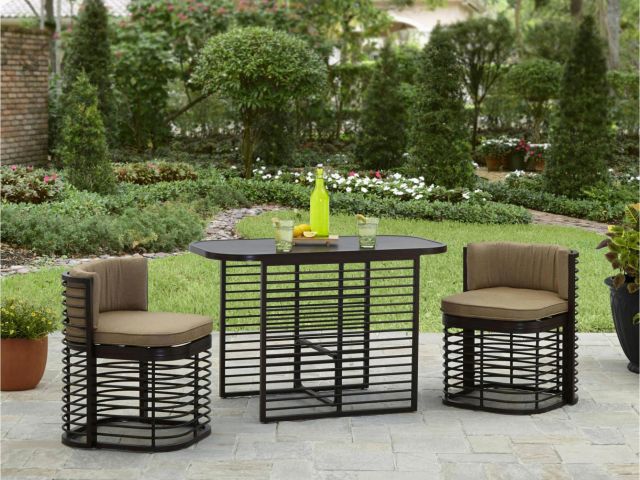 Chic garden tables for garden
As soon as the first warm rays of sunshine are felt in spring, it is time to place the garden furniture in the garden or on the balcony. Then it is often noticeable that a new garden table is needed. We show you which criteria you should use to buy your garden table and present five recommended garden tables.Click for Garden inspiration in creating tables in your garden.
Five things to keep in mind when buying a garden table:
Size and shape
The optimum table size for the garden or balcony is chosen so that you can place garden chairs around the table without having to slide them under the tabletop. If more than four people are to sit at the garden table, an oval or rectangular shape is recommended.
Weather resistance
In the garden, your table must withstand rain, wind and sunlight at least during the warm season. It should therefore be weatherproof and UV-resistant. After all, a garden table is a purchase that you want to use for several years.
Handling
If you want to move or store your garden table, it should be easy to handle. Garden tables with folding table top have a clear advantage especially when "wintering" in the garage or cellar.
Material
Garden tables are available as garden chairs made of wood, metal or plastic. If you want to buy a wooden garden table, you should consider that the natural material needs care so that it does not weather over the years. Materials such as plastic or aluminium are easier to care for.
Optics
Even if you normally provide your garden table with a tablecloth, it should still look good with your other garden furniture. The appearance of the tables is of course a matter of taste, but a harmonious overall impression is important.
Five recommendable garden tables for garden, balcony and terrace, which are chic, easy to clean and hard-wearing:
Sieger 152W – easy-care folding table for balcony or terrace
The sturdy and assembly-free Sieger garden table is manufactured in Germany. Its high quality workmanship and materials are visible immediately after unpacking. The robust table top consists of a special material that is acid-resistant, glow-resistant, cold-resistant, impact- and weatherproof. The stable frame made of coated steel tube ensures a secure stand. When set up, the table legs can be readjusted to compensate for any unevenness. You can buy this classic garden table online in various colours, shapes and sizes.
Siena Garden Elda Plus – sturdy metal garden table for up to six people
At this large garden table you can enjoy cosy barbecue evenings with up to six people. The robust tubular steel frame provides the necessary stability. The tabletop made of powder-coated expanded metal is weather-resistant and the mesh structure makes it visually appealing and easy to clean. Since the table top cannot be folded, this table also remains on the terrace or balcony in winter. Due to the excellent workmanship, neither stability nor appearance will suffer.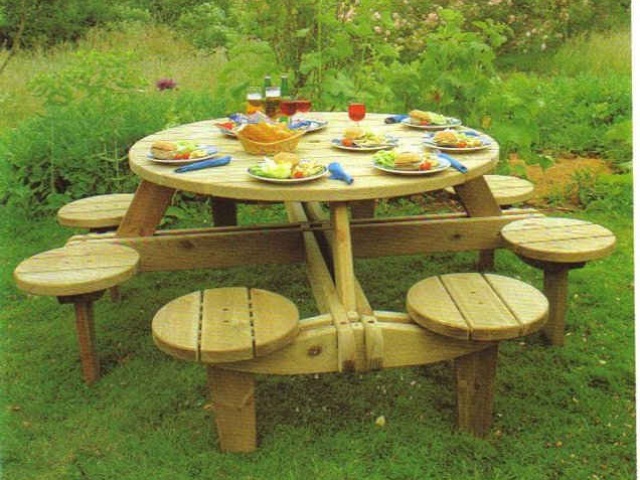 Sieger 233/a Boulevard – scratch-resistant folding table for balcony or terrace
This slim balcony table is perfect for smaller terraces or balconies. If you don't need the garden furniture, the tabletop can be folded in with a handle. The top is characterised by Sieger's proven mecalit material and is very robust. Even flying embers when grilling cannot harm this surface. This means that you could also use the garden table as an excellent side table next to the grill to place the barbecue food on it ready to hand. The material is also praised by many Amazon customers as absolutely scratch-resistant. This model is available in round, square or rectangular versions in various colours and sizes.
Relaxdays Bastian folding table – inexpensive garden table in rattan look
With this handy garden table the chic rattan look of the table top is convincing. The easy-care plastic is weather-resistant and is supported by a robust metal frame. To protect balcony floors, the table legs have practical rubber protectors. Despite its filigree appearance and low weight of just over eight kilograms, this Relaxdays garden table can take loads of up to 120 kilograms. Thanks to its practical folding function, this table is also perfect for camping or the allotment garden. Available in several colours in round, rectangular or square.
Siena Garden Dining Table Paleros – chic garden table made of acacia wood
If you want to buy a classic wooden garden table, the Siena Paleros is the right choice. The robust table made of weatherproof, oiled acacia wood with its fine grain and simple design is a real eye-catcher on the terrace. Four people can sit comfortably on it. The only drawback is its weight of more than 20 kilograms. In return, you will receive a genuine natural product that you will enjoy for a long time.